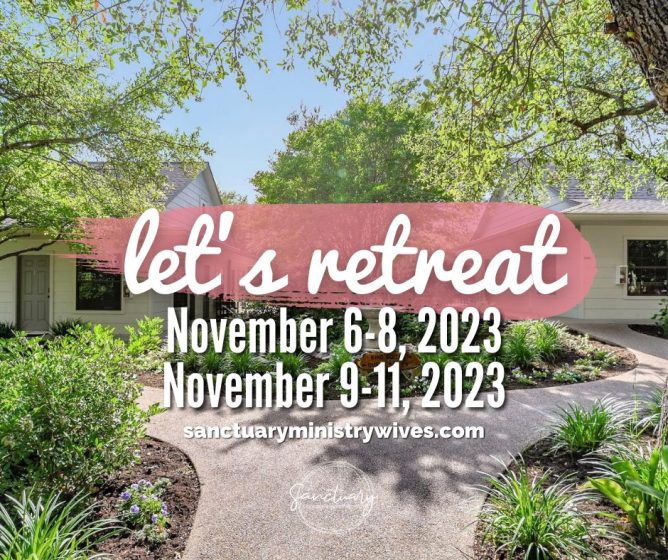 Bridgette Tomlin and her Let's Retreat team will head to the Waco, Texas area on Sunday, November 5, 2023 to prepare for this year's annual Sanctuary Let's Retreat events. Yes, events, PLURAL! We are beyond excited to have had the privilege and financial partnership to host TWO back-to-back events this year for women who are married and in vocational ministry. This outlet of Chresten Tomlin Ministries, Sanctuary, was launched in 2015 with a two-day, two-night retreat for ministry wives and has seen marginal growth over its nearly nine years of existence.
"I can't think of anything I enjoy more in my own personal ministry than loving on, providing support for, and creating platforms for connection to ministry wives, across this nation, and around the world! It truly brings so much joy and fulfillment to what God has entrusted me to do on this planet."–Bridgette Tomlin
Will you partner in prayer with Bridgette, Chresten, and the Let's Retreat team for each of these events, with Let's Retreat #1 beginning on Monday, November 6?
Here are a few prayer points to consider:
Ask the Holy Spirit to prepare the hearts of the 50+ guests who will attend Let's Retreat events this year. The guest capacity is kept intentionally small to allow each guest the space to rest, relax, connect, and drink deeply from the Holy Spirit's refreshing.
Pray for the events' guest speaker as she prepares the messages God has spoken to her for each audience. May she have courage to boldly deliver all that God has downloaded into her own spirit.
Pray for protection over our entire team in the weeks ahead. May we all remain sickness-free, our hearts guarded for ministry to our guests and to one another.
Push back any hindrances in the spiritual realm, obstacles that would prevent a guest or team member to attend. We must establish spiritual authority as we approach these events.
Many thanks belong to all of our financial partners who have acknowledged the long-term impact of each dollar invested into the lives and families of ministry wives. The ripple effect will continue to provide healthy, life-giving ministry to churches, communities, and people groups for decades to come!
Learn more about Sanctuary by clicking here.