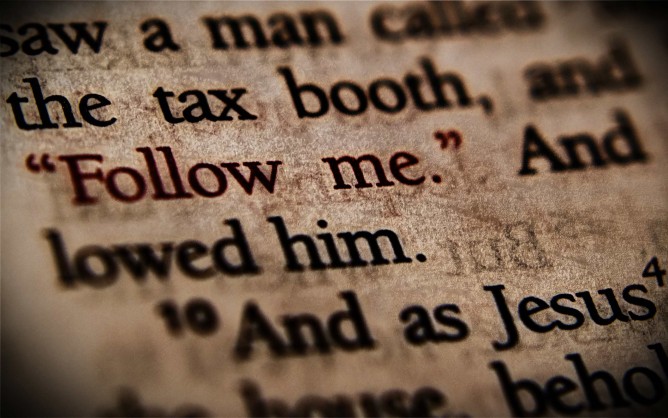 2 Corinthians 6: 11-17
11 O Corinthians! We have spoken openly to you, our heart is wide open. 12 You are not restricted by us, but you are restricted by your own affections. 13 Now in return for the same (I speak as to children), you also be open.
14 Do not be unequally yoked together with unbelievers. For what fellowship has righteousness with lawlessness? And what communion has light with darkness?15 And what accord has Christ with Belial? Or what part has a believer with an unbeliever? 16 And what agreement has the temple of God with idols? For you are the temple of the living God. As God has said:
"I will dwell in them And walk among them.
I will be their God, And they shall be My people."
17 Therefore
"Come out from among them And be separate, says the Lord.
Do not touch what is unclean, And I will receive you."
I watched a recent episode of the new AD: The Bible Continues series yesterday that only stirred my spirit all the more in this direction. The episode depicted the infamous outpouring of God's Spirit on the Day of Pentecost just after Jesus's ascension to heaven. So much turmoil was still festering because of Jesus's public ministry, crucifixion, and burial and the Roman government was pressing with greater intensity to dominate the Jewish nation. Word had leaked here and there of Jesus's resurrection but no truly public professions had been made just yet. Why? Because the time had not yet come. The core disciples had been commissioned by Jesus Himself to wait for the promise of the Father.
My heart was racing as I watched Peter and the dream team of Jesus's followers, doing their best to simply obey what He had commanded them to do. They surveyed the risks of moving forward and building the Church as Christ had instructed them. It seemed the instructions were filled with loopholes, filling His followers with hope but confusion.
"He said to wait."
"Wait for what?"
"We aren't sure."
"Surely we will know soon."
Then came the Upper Room experience as is depicted in Acts chapter two and the foundation seemed to be laid with perfect precision. Everyone in the room knew the time had come. It was time to come out. It was time to follow. And it was time to lead.
This was in keeping with the pattern that Jesus had set up right before their eyes. Believe, wait, receive, go. Hiding was never in Jesus's pattern. Shame was not a quality to be found in His followers. If you believed in Jesus, you came out and followed. As I look over the calling of His first twelve in the book of John, the option to follow from a distance or live as they had lived before was never presented. In fact, Jesus's primary 'altar call' was simply "Follow Me".
Why are we ashamed of the most amazing decision ever to be made by man? It seems that many in today's churches are apologizing for calling out those who must determine to follow Christ. Had Jesus not called His disciples out, one by one, they would have been totally ill-prepared for this historic moment! The risks were high and the responsibility, while exhilarating, was intense and heavy. They had to make that decision time and again. "Yes, I have decided to follow Jesus."
As we approach the return of the Lord and link arms with our first century brothers and sisters in Christ, we must resolve to come out from among them and be empowered by the Holy Spirit to bring in the final harvest. And as we are all called to draw the lost, we will do them a disservice by presenting anything less than absolute abandon: from darkness to light, sin to holy living, disobedience of God's Word to total obedience, bondage to freedom, sickness to health, fear to joy.
So I'm calling you out today…have you decided to follow Jesus?
No turning back,
Bridgette