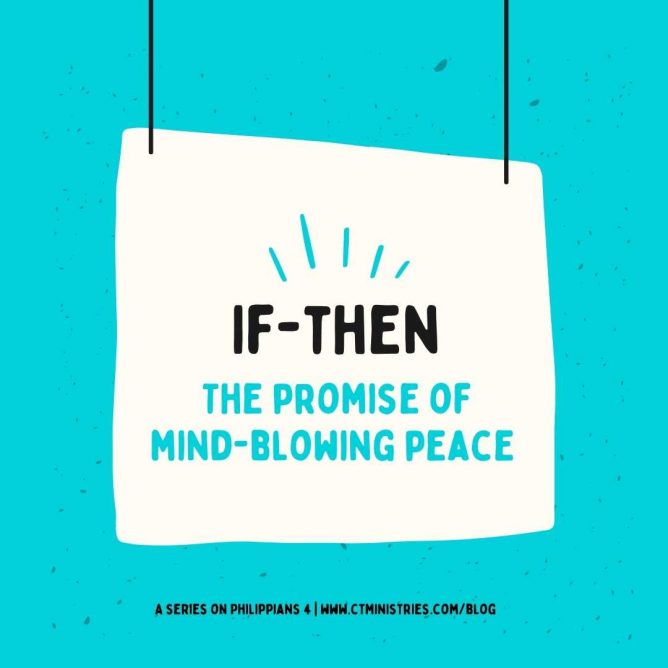 "Don't fret or worry. Instead of worrying, pray. Let petitions and praises shape your worries into prayers, letting God know your concerns. Before you know it, a sense of God's wholeness, everything coming together for good, will come and settle you down. It's wonderful what happens when Christ displaces worry at the center of your life." (Phil 4:6-7 MSG)
I've memorized these passages in the King James Version, studied them in the New Living Translation, but today read them with fresh eyes in The Message paraphrase. There may be mixed reviews on The Message being an actual translation of the Scriptures, but in certain instances, its bare-faced, disarmed language cuts through the "I've read that before" mindset and causes you to raise your eyebrows a little bit with the curiosity of a toddler. So far in the first two entries of this series on Philippians 4, we've discussed Paul's directives to the Philippian believers as he gave them the bullet points, clearly and succinctly:
Don't worry about anything.
Pray about everything.
Tell God what you need.
Thank Him for what He has already done.
Those are the "to-do's". But next comes the "if-then's"…the good stuff. I'm reminded as I ponder this series of verses of moments in my life when directives were given with a promise to follow. You know, the everyday ones like "If you clean up your room on time, then we might go get an ice cream cone" or "If you wait for the right one, then you'll be blessed with the man of your dreams".
I think back to my childhood when I would be out with my family in a public setting like church or a restaurant. My brother Andy and I knew exactly what the rules were as our parents were diligent to clearly identify the boundaries. On occasion the adult conversations would carry on too long and our determination to behave properly would wane, leading us to test the boundaries, even disobey and disregard them. First came the distinctive snap, followed by "the look". "The look" typically was sufficient to bring us back into order. But on rare occasions we found ourselves getting caught up and led astray by the children about us whose boundaries were, well, milder. Unfortunately, those moments of freedom were short-lived as Mother politely excused herself and firmly took each of us by the hand, guiding us quickly to the nearest place of privacy, which typically was the largest stall in the women's bathroom. At that moment the "then" followed the unfortunately neglected "if" and the results were undoubtedly memorable.
The promises of ice cream or the mate of your dreams are definitely mentionable and worthy of their pre-req's. But Paul writes about an if-then that will blow your mind…literally!
Then you will experience God's peace, which exceeds anything we can understand. His peace will guard your hearts and minds as you live in Christ Jesus. (Phil 4:7)
I don't recall a time in my life where there was a greater demand for a supernatural level of peace. In a time where wearing a mask or a squirt of hand sanitizer can provide a measure of peace to many, the type of peace God provides is literally unimaginable–until you experience it. As Paul states it, His peace will guard your heart and mind as you live in Christ Jesus.
You may be thinking, "Bridgette, I can't recall the last time I felt that kind of peace in my life."
Well, friend, it's time to step back a few verses and follow Paul's prompts once again. If, as believers, we are not encountering the mind-blowing peace that the world is desperately craving, we must require ourselves to do a personal survey to reveal the faults of our defaults. What are your daily habits that are taking you out of the supernatural peace of God?
In the year 2020 alone I can tell you there were many days I practiced Philippians 4 and then there were many others I struggled to follow through. The days I played according to Scripture's If's were the days I encountered Scripture's Then's. And even as I relished in the peace of God that didn't make sense, I felt at home in it. Why? Because that kind of peace is what you and I were designed to dwell in.
What does that look like in the day-to-day?
For me it starts with filling my heart and mind with God's Word, first thing each day. On the days I get off to the races without filling my heart with Scripture, I soon regret it. There's nothing to pull from. And worry is the first stop instead of God's promises and principles. "Don't worry about anything, Bridgette", I remind myself.
When the worry tries to creep in, God's promises that I've pumped into my waking thoughts prompt me to pray about everything. So whether I'm driving in my car, walking through the grocery store, sitting at my desk, taking the phone call with bad news, or scrolling through social media, prayer must be the first response to worry. Naming the worries in prayer is crucial because then I'm owning the fears but dragging them from the dark places of my heart out into the light so that both the Lord and the enemy take notice. The enemy of my soul doesn't want the Light to expose his plan to suck me into the dungeons of despair.
While I'm praying, I have a platform to profess my needs to the Lord. Sometimes it's as simple as just saying, "Lord, I'm battling anxiety over this situation. I need your peace and I need you to take the wheel of this situation. I can't do anything about it. But you can. Your Kingdom come, Your will be done here in Tulsa as it is in Heaven."
Then the praises go up! Sometimes they flow naturally as it's easier for me to release the need to His care. Other times the gratitude starts with my mind, giving the heart and body time to catch up. It's most certainly okay to "praise by faith". Praise your way to the assurance that God has taken care of this in the past and He can do it again.
Friend, don't live beneath your privilege! God's blow-your-mind peace is yours for the taking. "Before you know it, a sense of God's wholeness, everything coming together for good, will come and settle you down. It's wonderful what happens when Christ displaces worry at the center of your life."
In pursuit of peace,
Bridgette