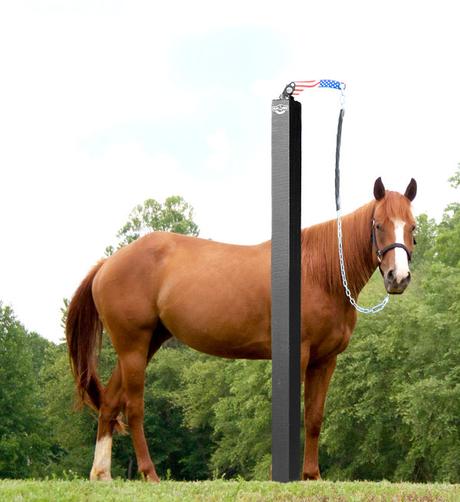 Last week our family enjoyed a few hours together, tending to the fifth member of our family–our mare, Dot. While Chresten and our youngest, Libbie, are the dominant "horse people" in the Tomlin crew, all of us enjoy a day of beautiful weather out on the ranch to drown out the rather hectic pace we keep every other day. On this particular day, Libbie was reacquainting herself with Dot as it had been several weeks since they had ridden together. Taking cues from her Daddy, Libbie gave simple commands, both on her back and from the ground, refreshing Dot's memory that, despite her tiny frame, this seven-year-old girl was in charge.
I was taking it all in, grinning from ear-to-ear, as I am continually amazed at the relationship our seven-year-old has with her horse. But also, I noticed our oldest daughter, Bonnie, 12-years-old, making a game out of swinging on what I now know is called a patience pole.
"What is that used for exactly?", I asked of my resident horse expert.
"That's a patience pole," Chresten replied. "They use that to train horses to stand still."
Hmmm, I thought. I've stood at a few of those in my lifetime. 
I don't know about you but if I ever pray, "Lord, give me more patience", it's a total accident that mindlessly slips from my lips. The reason I choose to not pray for patience is because I know exactly how God answers such a request: by allowing arduous circumstances or experiences to enter into my life which require patience.
Have you ever found yourself standing at a patience pole in life? You feel like you're chained to a set of circumstances that leave you very little, if any, wiggle room to turn your face one way or another.
I've experienced this a time or two over my nearly 41 years and can tell you that it's uncomfortable at best. If you do a search for the word "patience" in your Bible reference mediums, you'll discover all too quickly that patience is generally linked up with "suffering", "perseverance", "labor", "persecution", "longsuffering", and, drum roll, please–"testing".
James wrote in chapter one of his letters to the Twelve Tribes about the profit that comes from trials. Generally, trials come hand-in-hand with one's desire to fulfill the will of God. When you've asked the Lord to take you to another level in spiritual discipline, or perhaps enlarge your territory of influence, or even be granted greater financial responsibility or leadership status, a test is typically in order.
2 My brethren, count it all joy when you fall into various trials, 3 knowing that the testing of your faith produces patience. 4 But let patience have its perfect work, that you may be perfect and complete, lacking nothing. [James 1:2-4]
A few years back Chresten and I began to sense that God had something greater for us. We've never been driven to climb the ladder of what is deemed ministerial success. As the wise Dr. David Watson has been quoted, "There is no ladder of success in ministry. There's only obedience and disobedience." And yet our heart's desire was to simply enlarge our territory with one goal in mind: to completely fulfill the call to evangelism in every possible way that God would have us to do.
So we began to pray that God would enlarge our territory, as Jabez prayed in 1 Chronicles 4. As we approached 2014, Chresten and I sensed the theme for our ministerial efforts and family for the new year would "The Year of Increase". Maybe I don't have to tell you this, but such a declaration was sort of like a "double dog dare" for the enemy. Our goal was increase. His goal was destruction.
2014 embodied "The Year of Increase" in many fantastic ways. Opportunities increased, financial support increased, and vision increased. But so did spiritual warfare. I was wrestling with the reality that I was becoming less and less a part of what God was doing through Chresten on the field. My role as Mother to our two children left me unfulfilled but obligated to stay at home, sending my husband out continually on a prospering, fulfilling road of opportunity. I never heard God say He was relinquishing my personal call to evangelism. But at this patience pole of life, I was angry, frustrated, and hurting.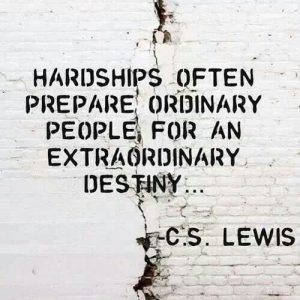 Don't get me wrong: no one is more crazy about the role of mother as I am! These two blonde babies of ours are miraculous, amazing, entertaining, loving, and so much more. And parenting is a supremely high calling! But all I could see at that patience pole was where I wasn't allowed to go. I couldn't turn my head left or right. I had to stay put and learn something significant here.
Patience. I had to learn patience.
I love how the writer of the book of Hebrews challenged the persecuted Jewish believers in chapter six:
9 But, beloved, we are confident of better things concerning you, yes, things that accompany salvation, though we speak in this manner. 10 For God is not unjust to forget your work and labor of love which you have shown toward His name, in that you have ministered to the saints, and do minister. 11 And we desire that each one of you show the same diligence to the full assurance of hope until the end, 12 that you do not become sluggish, but imitate those who through faith and patience inherit the promises. [Heb 6:9-12]
I can tell you that on the other side of those Patience Pole Training Sessions I have found my own years of increase. At that patience pole I buried myself in His Word, plead for wisdom daily, and lavished my love for His work through tears on my knees in His presence often. I cultivated my message from behind a computer keyboard and dusted off years of neglected gifts in writing and ministering to women one-on-one. I became a more present parent with our girls.
Are you harnessed to a patience pole today?
Perhaps better things concerning you lie just ahead. Remember: God is not unjust to forget your work and labor of love toward His name. But don't become sluggish in your waiting. Imitate those who through faith and patience inherit the promises.
Pressing toward Patience,
Bridgette