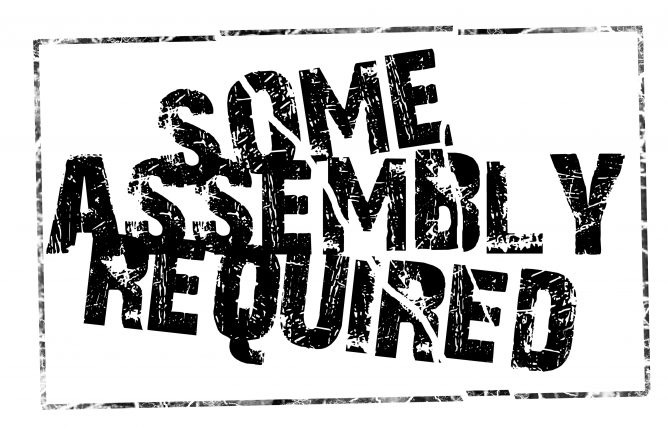 Some Assembly Required: Working in Reverse
Recently Chresten and I sold an antique table we had used for our breakfast nook and purchased a new, slightly smaller table and benches that better fit the room's size. When we saw the demo on the furniture store's showroom floor, it was fully assembled and we sat on the benches to be sure it would suit our preferences and needs. However, after we purchased it and went to pick up the product at their warehouse, the store's employees loaded into Chresten's truck two large flat, styrofoam-packed boxes. A label was not necessary for us to come to the annoying assumption:  some assembly required.
It was to be expected we would need to put a few pieces together, but not exactly ideal, to say the least, when it came time to unload the product into our garage, begin the tedious process of sorting the myriad of nuts, bolts, and screws, and then attempt to find where each tiny piece belonged. Some assembly required. The finished product has proven to "fit the bill", and honestly, the labor of assembling the three pieces was not overly complex. But that is not the case with each situation or project in life that begins with the dreaded "assembly stamp" at the beginning, right?
Life, from the first breath to the final, comes to each individual in a series of packages, most of which require assembly. Often times we stumble across a project that is more tedious than others, one that we wish we could snap a set of magic fingers and the toil of its assembly would swirl into a finished, polished product of success! Tragedy, long-term relationships, parenting, spiritual disciplines, healing from painful experiences…these are among the many projects of life requiring assembly.
Tragedy, long-term relationships, parenting, spiritual disciplines, healing from painful experiences…these are among the many projects of life requiring assembly.
What proves to be valuable, generally speaking, in the assembling of most projects is two things: first, a set of instructions, guiding through each step to complete the process in an efficient order; and second, a photo, description or, at the very least, a mental image of what the finished product should be. When Chresten began assembling our dining set, not only did he have the screws, nuts, bolts, and furniture pieces, but he also had a simple set of instructions on what went where, as well as a visual of what the finished furniture looked like as he had sat on the demo on the showroom floor! He had a goal in sight of what he wanted to produce. Therefore, he went to task, following the instructions (for the most part!), gave himself ample time to work, and, before the evening was over, we loaded the pieces into the nook. Ta-dah!
I often wonder what God's perspective is from His big-picture-view as He monitors the daily choices that we as imperfect humans make, managing the life projects delivered to us. How grateful I am for His infinite grace and mercy, as the psalmist reminds us in Psalms 103:  "For He knows our frame; He remembers that we are dust." We have a tendency to completely ignore the concept of 'some assembly required' as we tackle the labor-intensive projects and responsibilities of our lives with frivolous ambiguity. It is as though the weight of their outcome does not warrant pause and pondering on our behalf to determine the logistics involved to produce the eternal product we desire.
We must be people of eternal perspective. What does this mean? It means that we base every decision each day–our schedules, our routine, our time management–with the thought of eternity in mind. Yes, God is pleased when we take pleasure in simple things of earth that are not necessarily spiritual, such as dinner with friends or time shared with family. But what do your daily priorities say about what you treasure? Are you found often in His house? Is time with other believers as a family less important than multiple ball practices or secular activities for your children? Has work become the dominant force in your life?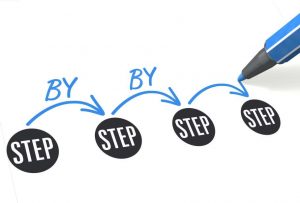 For example, I am a major advocate for training parents in Biblical methods for the training and shepherding of their children. I am continually baffled when I launch a new section of 8-10 week parenting training by the well-meaning parents who start strong and, within a few weeks' time, determine it is best for them to drop out. Their conflict? Generally, they've over-committed to extracurricular activities and, rather than cutting back on the superfluous ball practices, family outings, and social obligations, they cut the one night of the week when they have opportunity to highlight to their children the eternal importance of growing in the Word of God and setting life-long habits of faithfulness to God's house.
You see, it is of utmost importance, with the arrival of each life delivery with some assembly required, that we as believers on the Lord Jesus Christ stop and count the cost. A series of questions must be asked:
What do you want the final outcome to be? The visual of the finished "product" is where we should begin in formulating the plan, step-by-step, of how to reach the desired outcome. Do you want to grow in God's Word? Do you desire to raise children in the admonition of the Lord? Do you crave a marital relationship that is grounded in peace and growing in love? Do you long to find a place of rest and contentment in your daily life, balancing work and play? What is the goal? Start there and work backward.
What tools do you need to assemble this "product"? You'll be in a frenzied pattern if you attempt to assemble life's projects without the right tools. Generally, to produce anything of eternal quality, you'll need more time spent in God's Word and in His house, not less. You'll need more support from fellow believers, not less. You'll need less of the surface activities or shallow people, not more.
What are the instructions? And who wrote the manual? It may seem like a pat answer to refer you to the Word of God. The proverbial "duh" with perhaps a slight eye roll might be your initial response. But have you noticed that we have greater access to God's Word, instruction and preaching from it today, and less spiritual impact across the face of our current culture? We are far too busy to go deep as followers of decades past. Yet we face a greater spiritual war than any of our predecessors. The instructions for eternal quality projects are found in His Word, enlightened by His presence, and invested into our hearts, minds, spirits, and souls. When such instructions are absorbed, they will begin to be followed with the eternal perspective I mentioned earlier.
Start from the result and work backward.
Start from the result and work backward. What project is collecting dust in your life right now? Wouldn't it be of much greater use if you gave it a closer survey and began to move forward toward its desired and deserved completion?
Tackling this work-in-progress,
Bridgette
24 Do you not know that those who run in a race all run, but one receives the prize? Run in such a way that you may obtain it. 25 And everyone who competes for the prize is temperate in all things. Now they do it to obtain a perishable crown, but we for an imperishable crown. (1 Corinthians 9:24-25)