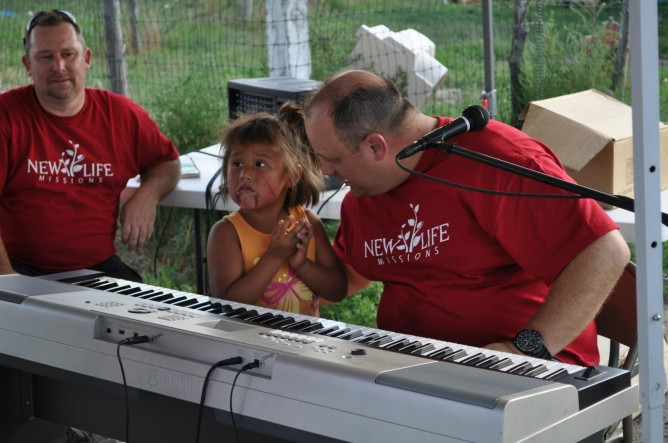 On Sunday afternoon, July 29, 2012, I, along with a team of 17 from various churches in Oklahoma, made my way on a 15-hour journey to the Pine Ridge Reservation in South Dakota.  This is home to the Oglala-Lakota Sioux tribe of Native Americans.  One would never think that, looking at the beautiful backdrop of the Black Hill foothills, you would encounter a head-on collision with demonic forces.  We have found in years of previous ministry that few of these households have any type of transportation accessible to them.  In the past, we have held nightly crusade services in a nearby school gymnasium.  However, I determined we needed to take the Gospel to the people…right where they live.
The team and I drove right up into the neighborhoods, canvassed the local homes, & began to draw a crowd with music, games, & activities for the children.  We would start with a time of ministry for the kids, then ministered to the adults & passed out sack lunches for everyone in attendance.  This style of ministry was used daily & proved to be our most effective means of reaching this lost people to date.  The ministry team outdid themselves, making it possible to cover a lot of ground quickly.
Another wonderful opportunity we had once again this year was via open doors at the area prison.  Chresten Tomlin Ministries has a standing invitation any time we are in the area to take the Gospel there.  This has to be one of the highlights of our time each year.  We had the privilege of ministering to post-sentence & pre-sentence male prisoners, as well as all female offenders.
We faced intense opposition of demonic forces, but felt such victory in the Spirit.  Morning prayer times together were imperative in our preparation to face this spiritual battle each day.  One family in particular, in the tiny community of Porcupine, was radically changed.  Demon spirits were harassing their daughters each night, telling them to commit suicide (Suicide rate is 150% higher than the National average amongst the Lakota Sioux.  1 out of 3 children, ages 10-18, have either attempted or have been successful in committing suicide.).  The entire family was gloriously saved & this bondage was broken off their lives.  Only the power of Jesus can accomplish this & bring such complete freedom!
The week concluded with one final crusade night at the Wounded Knee School Gymnasium.  The team kicked it off in a dynamic kids crusade, with an adult crusade following.  Hundreds of coats & blankets were given away and each person in attendance received a free spaghetti dinner following the services.  Over 150 souls accepted Jesus as Savior and were pulled from Satan's clutches!  Thank you for your partnership in prayer & giving.  You are vital to our success!
I would also like to say a special "thank you" to Pastor Robert Miller of Owasso New Life Assembly and Pastor Danny Isrigg of Broken Arrow New Life Assembly for their assistance in coordinating this successful team.  I couldn't have done it without you!