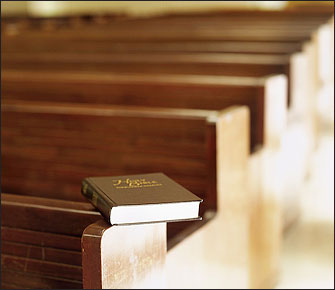 James 1:21-25:  21 Therefore lay aside all filthiness and overflow of wickedness, and receive with meekness the implanted word, which is able to save your souls.
22 But be doers of the word, and not hearers only, deceiving yourselves. 23 For if anyone is a hearer of the word and not a doer, he is like a man observing his natural face in a mirror; 24 for he observes himself, goes away, and immediately forgets what kind of man he was. 25 But he who looks into the perfect law of liberty and continues in it, and is not a forgetful hearer but a doer of the work, this one will be blessed in what he does.
I accepted Christ as my Savior at the age of four in a children's crusade held at the church in which my parents served as associate pastors. I was raised in church, have attended thousands of church services, church, church, church…I know it well! When I would return to school after each summer's break and the teacher requested a report on "what I did this summer", I would outline the various activities that involved…you guessed it….church! (It's a good thing church can be fun!) My children will say the same of their lives as they are being raised similarly in the ministry. Serving God, reaching out to others, training our children in the way they should go, ministering full-time on a weekly basis, and on and on is the summary of this family's genetic code.
Many of you may have a similar story. And some of you may not have come into the Kingdom until later in your life. But if you've served God for more than a few months you have discovered that a relationship with Christ is a living organism. It must be tended to or it, like all other relationships, will grow stale.
What concerns me is when a believer who has a lot of years under their spiritual belt no longer recognizes when their relationship with God has gone stale. It has happened to the best of us so stay engaged before you get offended. James pulled no punches when he wrote to the Twelve Tribes so long ago. He wasn't writing to newbies in the faith. He was writing to those who were well-versed in church life. He was writing to believers like himself who had been steeped in religious activity most of their lives. He was writing to me.
"…receive with meekness the implanted word, which is able to save your souls." Have you outgrown receiving with meekness the implanted Word? Are you still requiring yourself to be a doer of the Word, not a hearer only? All too often it's the saints who have become accustomed to the life-giving Gospel of Jesus Christ that give themselves permission to skip out when the message is coming to a close. This looks like the worship team that steps off the platform and catches up over coffee instead of rushing to the sanctuary to take in the preached word from their pastor. Picture the saint who no longer must remain throughout the altar call but dashes out to "fellowship" in the hall. This embodies a group of believers who don't read the Word on a daily basis because it is life to their spirits. The minister who comes late for worship service or checks e-mail and social media while in a service he's not conducting. Stale saints aren't desperate to engage in ministry any longer. They've in many ways "outgrown" the implanted Word of God.
Paul urged Timothy in 2 Timothy 1: 6 to "stir up the gift". The implanted Word is just the beginning! The Berean believers in Acts 17 were noted as "more noble of character" because they received the Message eagerly but then continued to examine the Scriptures. To prevent staleness in this relationship with Christ we must be actively pursuing what else He has to say to us through the Word. That involves stirring up the gift in everything we do. Listening to the preached Word like it's the very first time instead of "checking out" mentally when it seems the title doesn't pertain to what we think we could use. Reading the Scripture on the social news feed instead of scanning right past it. "I've seen that before." Examining the Scriptures for ourselves, not just trusting the latest blogger's cotton candy version of it and calling it done for the day.
Tough, right? But God thinks you're worth it! Stir up the gift and try the Word back on for size. The truth is, no matter how great you become, you'll never outgrow your need for more of it! "This one will be blessed in what he does"!
Digging a little deeper,
Bridgette