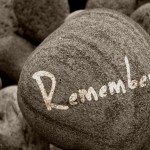 Joshua 1: 1-9, 13:  "1 After the death of Moses the servant of the Lord, it came to pass that the Lord spoke to Joshua the son of Nun, Moses' assistant, saying: 2 "Moses My servant is dead. Now therefore, arise, go over this Jordan, you and all this people, to the land which I am giving to them–the children of Israel. 3 Every place that the sole of your foot will tread upon I have given you, as I said to Moses.4 From the wilderness and this Lebanon as far as the great river, the River Euphrates, all the land of the Hittites, and to the Great Sea toward the going down of the sun, shall be your territory. 5No man shall be able to stand before you all the days of your life; as I was with Moses, so I will be with you. I will not leave you nor forsake you. 6 Be strong and of good courage, for to this people you shall divide as an inheritance the land which I swore to their fathers to give them. 7 Only be strong and very courageous, that you may observe to do according to all the law which Moses My servant commanded you; do not turn from it to the right hand or to the left, that you may prosper wherever you go. 8 This Book of the Law shall not depart from your mouth, but you shall meditate in it day and night, that you may observe to do according to all that is written in it. For then you will make your way prosperous, and then you will have good success. 9 Have I not commanded you? Be strong and of good courage; do not be afraid, nor be dismayed, for the Lord your God is with you wherever you go."
13 "Remember the word which Moses the servant of the Lord commanded you, saying, 'The Lord your God is giving you rest and is giving you this land.'"
Has God ever spoken to you? What did He say? Did He give you a directive to follow? Did He give you hope for an answer to prayer? Did He ask you to give something?
When I read the above text from the book of Joshua, my mind gives me a visual of how worn out this group of people had to be. And amongst the estimated 2.5 to 6 million members of God's chosen Israel, there had to be a few doubters still at this point. Generations had lived and died by the word of God given to Moses. They had traveled. They had rejoiced. They had given birth. Some had died. They had been ill. They had been strong in health. They had lived hard throughout their journey to the Promised Land.
And then Moses died. What now? Did the promise of Jehovah God die with Moses? You may know the rest of this story, but the promise did not die! God spoke clearly to Joshua, in essence saying, "Moses is dead, but I am not. Get your stuff together and finish up the journey." Still yet, God knew the restlessness and weariness of His people. Three times in these 10 verses alone He reminds them, "Be STRONG! Have COURAGE!" Very easily they could have blown Joshua off as a wannabe Moses and settled in to second best. But Joshua reminded them succinctly in verse 13:  Remember the word.
Again I ask you, what was "the word" God gave you? Distant past or recent past, God has something specific for you to do, believe for, say, live or give. Don't settle for second best! Be STRONG, have COURAGE, and fulfill that which He has spoken to you.  Your Promised Land lies just ahead.