Pine Ridge Reservation Update
Play the video below to learn more about what God is doing through Chresten Tomlin Ministries on the Pine Ridge Reservation to reach the people of the Lakota-Sioux nation.
Pine Ridge Reservation
Chresten Tomlin Ministries has walked through a door that was opened over nine years ago to reach and minister to the Lakota-Sioux tribe of the Pine Ridge Reservation in Pine Ridge, South Dakota. This desperately lost people are the product of generations of hopelessness, addiction, and "victim mentalities."
God has given this ministry a slow, but sure, progress in turning that hopelessness into hope in Christ and total regeneration. Communities are being changed because of the power of the Gospel of Jesus Christ!
These photos are a few examples of what God is doing in Pine Ridge. (Click an image to view slideshow.)
Saudi Arabia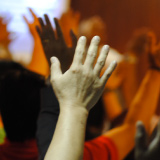 The Lord is continually opening new doors for this ministry around the world. With past efforts in Italy, Belgium, and France, Bridgette and Chresten have witnessed the mighty hand of God in operation.
Several tours took them to the country of Madagascar, which is an island 70 miles off the southeast coast of Africa. Five crusade tours produced 18,000+ decisions for Christ!
Crusade services on the Lakota Sioux Indian Reservation over the past nine years have yielded unprecedented progress in breaking down strongholds in that spiritually-bound culture.
God has given the Tomlins a unique opportunity for evangelistic ministry through a Pentecostal body of believers in Riyadh, Saudi Arabia! The Bible says that the Gospel will be preached to the whole world–and then the end will come. This is prophecy coming to pass! The Tomlins have been so humbled & blessed to be a part of this great end-time endeavor and are praying for continued favor as they walk through each open door.